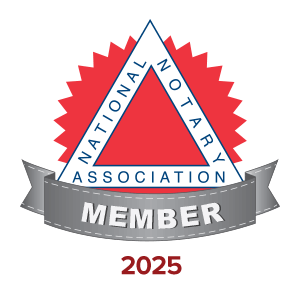 123 Notary Profile . Read Reviews . Write a Review Yelp Listing . Write a Review California Notary Commission (Verify Online) NNA Certified Signing Agent and Background Screened (Verify Online) Bonded in San Diego County on 8/5/2015 Fidelity Approved and Pavaso Certified $100K E&O Insured
What is a Notary?
A Notary certifies the signer(s) appeared before them, was properly identified and logged in a notary journal, was administered an oath or affirmation (if required), and that the signer signed in front them. The purpose of each notarial act is to prevent fraud.
---
What is a Signing Agent?
A Signing Agent is a neutral party hired to ensure that documents are correctly signed and returned for funding. The agent should be professional, arrive on time, and be trained to provide a summary of each document. Additionally, they should be able to locate answers to most borrower's questions within the documents at the table. My Loan Signing Package includes confirming the appointment with the signers, edoc retrieval, 2 copies of up to 150 pages printed on a laser printer in letter/legal sizes, document review and preparation, travel up to 40 miles round-trip, general summary presentation of documents to signers, all signatures - double checked for accuracy, 1 witness when required, report of status after the appointment, and return delivery with customer provided shipping label. Buyer and Refinance with FHA/VA and Conventional Loans Home Equity Loans and Lines of Credit (HELOC) Seller Docs Reverse Mortgage Applications and Closings Loan Modifications Vehicle Loan packages eSignings Special Instructions: Please provide special instructions if the signers need to sign in a certain color of ink, documents need to be printed in all legal or all letter size instead of how digitally received, how to sign with trustee or power of attorney verbiage, fax/scan back details, if I need to collect anything from the signers, or other specific details. What I cannot provide: Extra loose certificates; because we must log each document separately in the notary journal in chronological order My seal on any document that does not have the proper notorial wording. (Out of State certificates can be completed, at your request, and only if the wording does not require me to determine or certify the signer's capacity or title.) Any signing date other than the date of signing. Previous dates or future dates are strictly prohibited. Again, notary journal enteries are in chronological order.
---
Shipping Information:
Documents are dropped off at specified shipping companies with locations that provide receipts. Packages are never left in drop off boxes, unless required for late pickup situations. Every attempt is made to drop documents off for next day delivery. FedEx - Pick up is once a day at 4:45pm (M-F) and 4pm (Saturday) for next day delivery. FedEx Tracking UPS - The last pick up is at 5:30pm (M-F) and 3pm (Saturday) for next day delivery. UPS Tracking GSO, Norco, and OvernightExpress Drop Boxes - The last pick up is at 8pm (M-F) for next day delivery to every address in California, select regions of Western Nevada, Arizona, and New Mexico. GSO Tracking
---